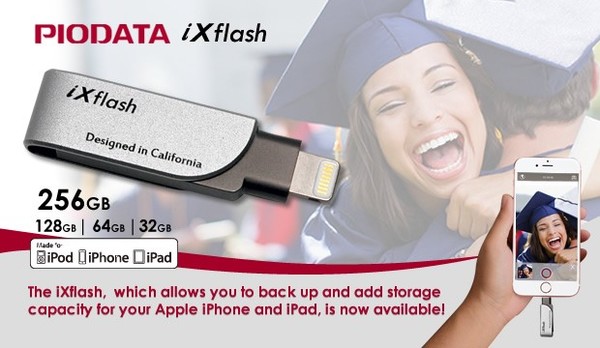 Have you ever gotten a gift for someone and you knew it is something they would love and could really use? Do you remember how difficult it was to hold onto it and wait to give it to them on the actual date the present was intended for? That's how I've felt the last year or so as we've perfected our latest offering with the iXflash, Apple Lighting Flash drive. We completely redesigned and improved upon both the actual drive and the App used with the drive to make it the most ideal companion for anyone that has an Apple iPhone or iPad, regardless of the storage capacity.
With the iXflash, you'll no longer live in fear of missing the perfect picture/video or be forced to delete important images or Apps because your iPhone or iPad is running out of memory. The iXflash provides extended memory for iPhones, iPads, and iPods with a Lightning connection. It allows you to take pictures and videos with confidence, watch HD quality feature length movies, and listen to music without sacrifice or requiring a connection to a computer or the internet. The iXflash frees you from the limitations of your storage capacity and opens up a world of possibilities!
Key Features:
Small device – HUGE CAPACITY: With added storage capacity of 32GB, 64GB, 128Gb, up to 256GB, you should never worry about running out of storage capacity on your iPhone or iPad. Never again will you be frustrated by messages that say, "Cannot Take Photo," because there's no more space for new photo's or videos.
Direct Photo/Video Capture: The iXflash allows you to take real time photos and videos that transfer directly to the iXflash's internal memory, without using the memory on your iPhone, iPad, or iPod.
TRANSFER BETWEEN ALL YOUR DEVICES: The iXflash can quickly and easily transfer content between multiple iPhones or iPads, allowing you to share all or select photos and videos with friends and family quickly and securely. Plus, with the USB 3.1 connection, you can back up all your content onto a computer or transfer content from a computer to view or listen to on your iPhone or iPad.
Saves Battery Life: The iXflash saves on battery life by going into low power mode when backing up your photos and videos, preserving your battery and not disrupting your iPhone or iPad's primary functionality.
Photo/Video PROTECTION: The iXflash supports the Apple Touch ID feature to safeguard your photos and videos by locking access through fingerprint identification. This feature will protect any file stored on the iXflash from being viewed through an Apple mobile device or through a computer to ensure complete privacy.
APPLE MFi CERTIFIED: The iXflash devices are engineered to meet Apple's stringent design specifications and are MFI (Made for iPhone/iPad/iPod) Certified.