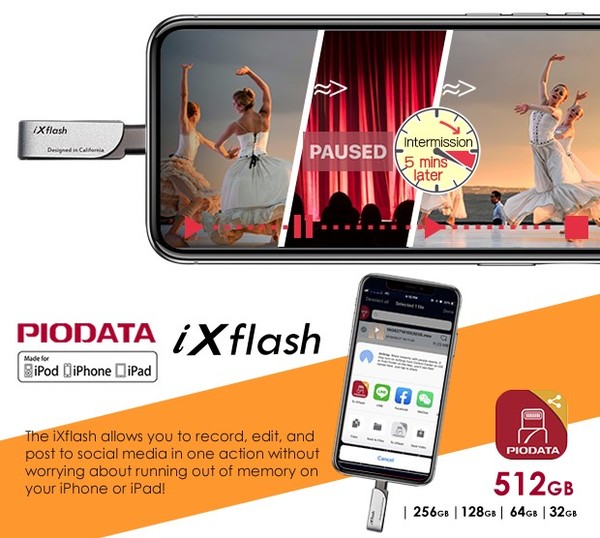 When filming on your iPhone and iPad, don't be limited by your dwindling memory. Vinpower's iXflash, utilizing the Piodata iXflash App, will allow you to use the camera on your iPhone or iPad to take video without worrying about running out of memory on your phone. The reason why is that the iXflash doesn't use your iPhone or iPad to store any of the content, not even as a buffer, so as long as you have space on your iXflash, then you have plenty of time to record in hi-def, anytime, anywhere. You don't have to pay for expensive cloud storage or frantically try to delete older pictures and videos or other apps to make space. Just plug in the iXflash, open the App and use the camera feature to film and never miss a moment.
On top of that, the iXflash allows you to pause the live recording, so that you can change positions, move locations, or whatever the reason, without needing to stop and start filming. It's like a mini editing feature bundled into one incredible App for your iPhone or iPad. Film your child's play or sporting event without missing the key moments or needing to constantly start and stop over and over again. Go on a vacation and never worry about whether you have wi-fi in order to back-up your content to the cloud or use a social media app to film your adventure.
With the iXflash, you can film, edit, and post to social media all in one take, without worrying about not having enough memory or knowing how to use complicated editing software. The iXflash is the perfect companion to anyone that likes to take video with their iPhone or iPad.