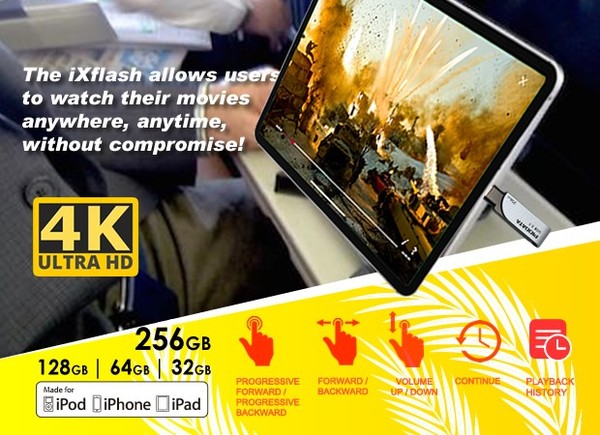 Taking a trip and need something to watch during your travels? The iXflash is the perfect travel companion! You can load it up with tons of HD, even 4KUHD, movies that you can watch through your iPhone or iPad anytime, anywhere, with no lag or distortion. The best part, you don't even need wi-fi. During these times when airlines want you to pay for their "entertainment", you can pull out your iXflash and watch what you want when you want!
In addition, the video player used through the iXflash App offers many conveniences, such as:
Ability to play content in UHD 4K with no lag or distortion
Uses simple finger gestures to fast forward, rewind, pause, even raise and lower the volume
Works with multiple video file formats, include MPEG4 and MOV
Able to resume movies at the exact point you stopped, even if you exit the App
Does NOT require any internet or Wi-Fi access
Store and watch movies from the iXflash drive or load them to the iXflash App
Plus much more!