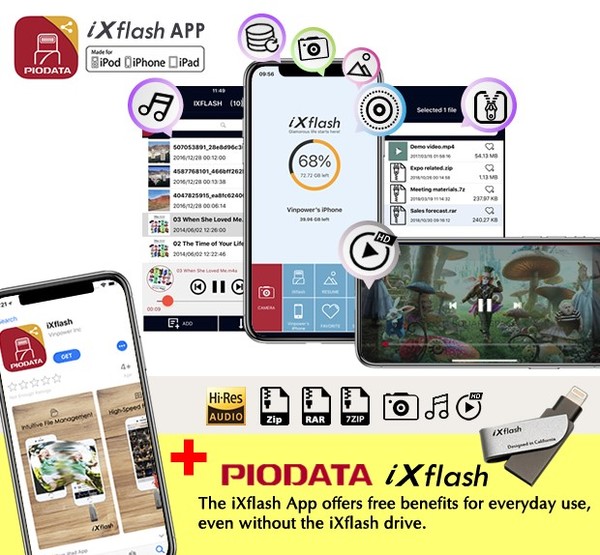 Our phones, which is almost a misnomer these days as we tend to use our cell phones more as micro Laptops and less for talking to other people. As the smartphones become more and more powerful with greater operational capabilities, they have become an indispensable part of our lives for business and entertainment. For example, virtually everyone that owns a smartphone, utilizes the ability to send and receive emails and instant/direct messages (IM / DM). Often these messages contain attachments, including compressed files, such as the most common compressed file extensions being .ZIP, .SITX, .7Z, .RAR, and .GZ.
If you're an iPhone / iPad user, you know that those devices cannot natively open these types of compressed files without using a 3rd party App, which all have a cost associated with them. The unintended added bonus for the iXflash App is that it also offers a method to open and save / view files that are contained in a compressed file. Not only is the iXflash App completely free, but it can provide a very useful tool to open files that are currently unavailable through the iPhone and iPad's native OS.
On top of that, the iXflash App can hold and open/playback many formats of content, such as music and movie formats, like mp3, mp4, High Efficiency Video Coding H.265, flac, and many more. If you just want a temporary storage to place music and movies that's easier to install and remove from your iPhone and iPad than iTunes, the free iXflash is your ticket.
Everyone with an iPhone or iPad that uses a Lightning connection is welcome to download the FREE iXflash App and use these benefits for yourself and if you choose to purchase the actual iXflash drive, you can also take advantage of the many other wonderful benefits it offers, such as:
Quick complete back-up of your entire photo album with just one touch.
Live Recoding Plus – Able to take photos and videos directly to the iXflash without using devices memory
Easily transfer files between PC/Mac computers and your iPhone, iPad, iPod.
Set the drive to read only / write protect
Enjoy music and movies without an internet connection
Intuitive file management
Plus, many other convenient features that make the iXflash drive even more than just an extended flash storage for your iPhone, iPad, iPod.