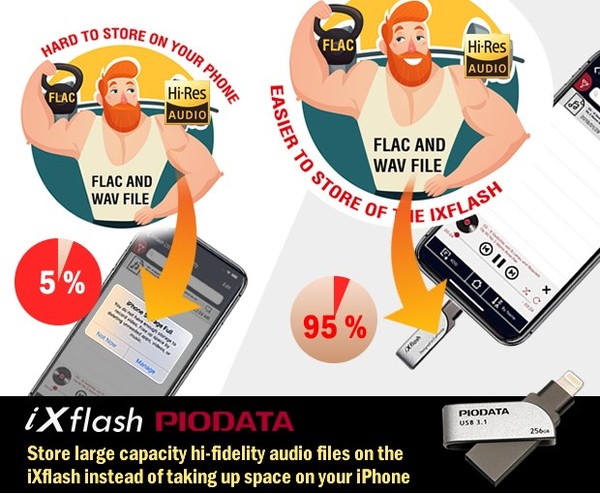 Just like I discussed in the previous week's email blast, high fidelity and lossless audio quality is becoming more popular with those that truly enjoy music or other forms of audio content. You don't have to be an audiophile to truly appreciate the value of high quality audio. The problem is, the uncompressed lossless audio files are very large files and take up a lot of capacity on our players, which today are most typically your phone. Of course CD's have near perfect sound quality, but it's not always convenient to listed to CD's. So what do you do when you want the digital quality of a CD but don't want to lug around your entire CD collection and you don't have the storage capacity on your phone for full sound of lossless audio files? The solution is easy, store those files on an iXflash drive!
With the iXflash drive, available in sizes from 32GB up to 512GB, you can store a huge array of music files, including lossless audio files, that can be played directly through your iPhone or iPad. Even lossless audio files like the hi-res flac files, which aren't supported by iPhones but can still be played on an iPhone through the iXflash App, can be stored and played anytime you want. The iXflash gives you the freedom to play all your music while the iXflash is connected to your iPhone / iPad, or you can temporarily load select songs or a playlist onto your iPhone / iPad and when you're done listening to them, remove them from the iPhone / iPad to free up more space. Yet, they remain on the iXflash for the next time you want to listen to those songs or programing.
We've all been there, no matter what capacity storage you buy with your iPhone, you seem to always battle running out of space. Between the hi-res pictures and videos, the never ending number of Apps and its stored data, and the confounding "other" content, there never seems to be enough storage when you need it. Since smart phones are less frequently used as a phone and more often used as out everyday camera, for social media, internet search engine, TV, and radio source, the items that often the odd man out are the music files. Don't go back to the low-res compressed MP3 audio files that don't provide the full musical fulfillment, get an iXflash and get the full concert experience whenever and wherever you are!