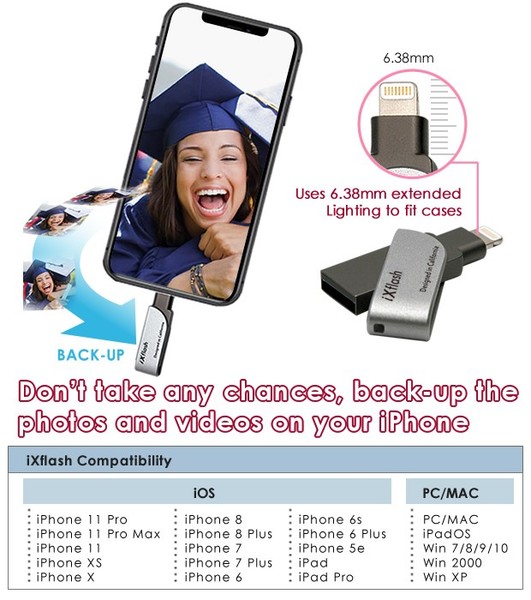 Millions of people around the world have taken tons of pictures and videos with their iPhone's or iPad's that they never back-up from their device. I don't need to say how risky it is not to back up those images from a mobile device that could be easily lost or stolen with no recourse. In fact, it's been documented that approx. 70 million people lose their cell phones every year. The main reason behind no backing up photos and videos is that it's too complicated or they don't want to pay the fees for cloud storage.
Vinpower makes it so incredibly easy and inexpensive to back up all your photos and videos through our iXflash drive and App. Merely plug it in and select back-up photos and the App will do the rest. Not only will the iXflash quickly and easily back-up all the photos and videos stored on your iPhone or iPad in their original state with the original name, date, and location tags, but it will also back-up special Apple features like Live Photo and Photo Burst in their native form so all your images will remain in their original state. In addition, the iXflash can also back-up the images stored on the iCloud, to make sure you have access to all your photos and videos, even when you don't have access to iCloud.
The iXflash comes in multiple capacity sizes, from 32GB, 64GB, 128GB, 256GB, and even 512GB, to match the needs of all users, from the occasional picture taker, to the professional influencer on the go. You can find the iXflash in a variety of online retailers around the world.