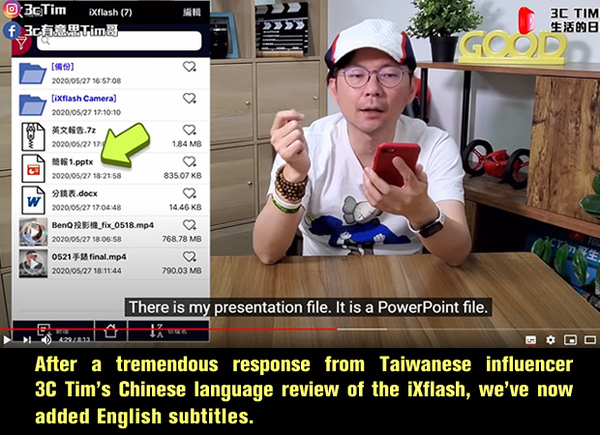 A little over a month ago, I shared a glowing review of our iXflash drive as an ideal accessory for anyone with an iPhone or iPad. Because the video review was entirely in Chinese, many of our recipients were disappointed that they couldn't understand what 3C Tim was saying about the iXflash. Because of your feedback, we coordinated with 3C Tim and had the entire spoken text translated into English and posted onto the video review as shown on YouTube, which you can view again or for the first time by clicking on the below link:
https://youtu.be/QoSBZzDd40s When you watch the video, make sure the "Subtitles/Closed Caption" feature is turned on.
So now, you don't have to reply on my synopsis or finding a friend the speaks Chinese to translate for you. You can watch the video on your own and read either the English subtitles or YouTube can use the English subtitles to translate into numerous other languages, which you may be more comfortable with. Once you watch the video and able to understand the full context of 3C Tim's full review through English subtitles or in your own language, it will highlight even further all the advantages and benefits the iXflash drive offers from an unbiased 3rd party.