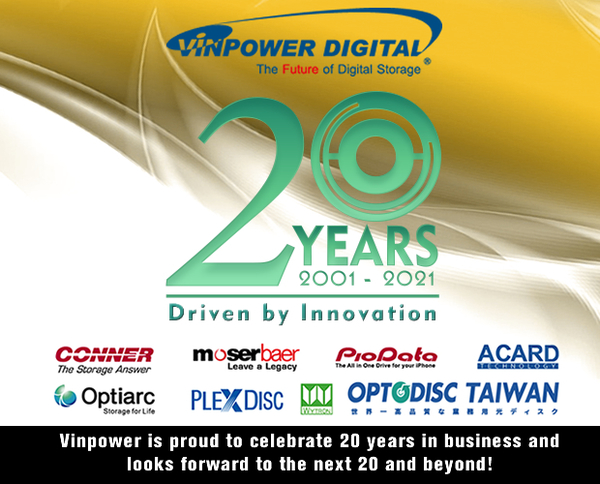 From humble beginnings and pure grit and determination, Vinpower rose from their garage roots to become a celebrated corporation with production and sales offices around the world. Given that most small businesses fail in their 1st year, to make it to 20 years and still going strong is a huge accomplishment that we are happy to celebrate.
With that said, none of this would have been possible without a stable partnership with passionate resellers and customers. We appreciate all those that have worked with us throughout these past 20 years. It is the trust and reciprocal appreciation between our suppliers, workers, and customers that we have endured this long and will continue to make strides in the future. So, why we take this time to admire a big milestone in our history, we also want to give gratitude to all those that have helped us get to this point.
Even though we may not have achieved the global prowess of Apple or Microsoft, yet, Vinpower has become a trusted innovator and manufacturer over the last 20 years, providing high quality affordable digital data storage hardware, media, and accessories. Vinpower has become a leader in developing the complete ecosystem for data storage and digital duplication through a solid core of customer service, global branding, and world renown R&D in fields such as Circuit Design, Software Engineering, IC Design, Robotic Engineering, semiconductors, flash memory, and recordable optical disc production, just to name a few.
As we strive for the next 20 years, Vinpower invites you to pay attention to a number of popular data storage and duplication product brands under our umbrella of companies, that we developed or acquired over the year. These companies include but are not limited to:
OPTODISC, Optical Quantum, Plexdisc, Piodata, iXflash, SharkCopier, PlexCopier, ACARD Technology, Wytron, Moser Baer, Conner, Optiarc, plus many other national and regional brands around the globe. For more details about these products or any product in the Vinpower offering, please visit our website www.vinpowerdigital.com, or contact a representative near you.
Interested in this article? Click on the following link to read this and all previous email blasts and interesting related content from Vinpower's official Blog: https://blog.vinpowerdigital.com/