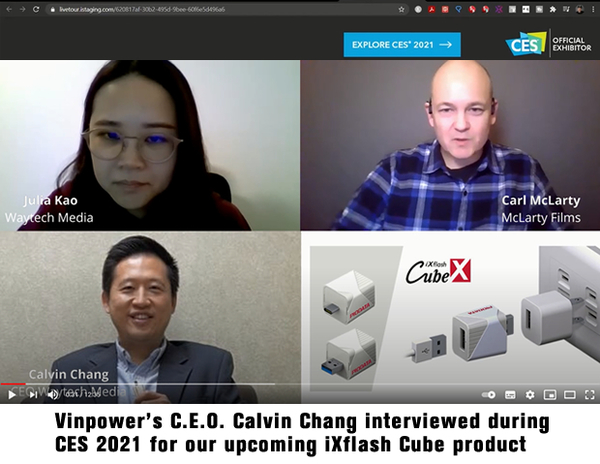 Even though the 2021 CES was all virtual, Vinpower was fortunate to still be able to catch the attention of a number of interested parties as well as press. In one such interview, Vinpower's C.E.O. Calvin Chang was interviewed by Carl McLarty of McLarty Films regarding an upcoming product we promoted at CES, the iXflash Cube.
The iXflash Cube is a brilliant device that, when teamed with our iOS App, can backup all of your photos and videos stored on your iPhone or iPad, ("iDevice"), all while your "iDevice" is charging. Additionally, when your "iDevice" is connected to the internet, it can also backup photos and videos stored on your iCloud account. In essence, the iXflash Cube is performing two critical functions at once; backing up your critical content and charging your "iDevice" simultaneously. You never have to worry about losing previous memories or draining your iPhone/iPad while backing them up. The iXflash Cube will be available late Q1 or early Q2 this year and will be offered at a very attractive price point.
The interview is very informative and we welcome you to view it for yourself. See the YouTube video of the interview from the below link:
https://youtu.be/yac3At8MKW8
For more details about this product or any product in the Vinpower offering, please visit our website www.vinpowerdigital.com, or contact a representative near you.
Interested in this article? Click on the following link to read this and all previous email blasts and interesting related content from Vinpower's official Blog: https://blog.vinpowerdigital.com/