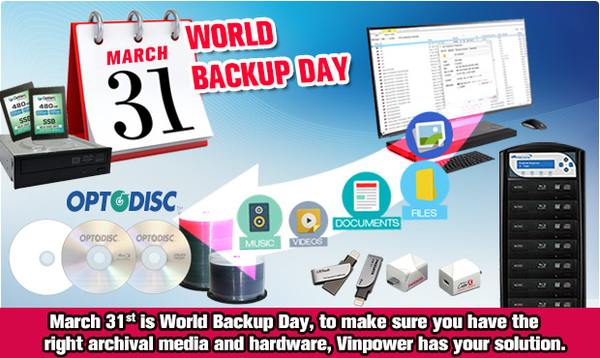 The importance of backing up your data onto a 2nd and even a 3rd source is so important that there's a day dedicated to it every year. March 31st is known as World Backup Day, just to bring awareness and encourage everyone to back up their digital content. Vinpower has been an advocate of multiple backups from our inception, not just because it's part of our business structure, but because we've been a victim of data loss and if we hadn't had adequate backups, we would have been in deep…let's say we would have had big problems.
At Vinpower, we offer multiple backup solutions, from optical discs, SSD, flash (USB & SD), including our incredible iXflash iOS mobile flash storage, to name a few. But we've always touted optical discs as the best and most cost effective method of archival/backup. Optical Disc backups can easily be created, stored, retrieved, takes up minimal space with no power consumption, and the content cannot be altered or deleted, making them the ideal storage medium. Plus, when you compare the cost of optical discs to other digital storage mediums on a cost per KB basis, they are the most cost effective storage platform on the market today.
With World Backup Day quickly approaching, this is the perfect opportunity to back up all the digital content you've been putting off for so long. Vinpower can make it easy and cost effective to do so.
For more details about archival storage or any product Vinpower offers, please visit our website at www.vinpowerdigital.com,or contact a representative near you.
Interested in this article? Click on the following link to read this and all previous email blasts and interesting related content from Vinpower's official Blog: https://blog.vinpowerdigital.com/