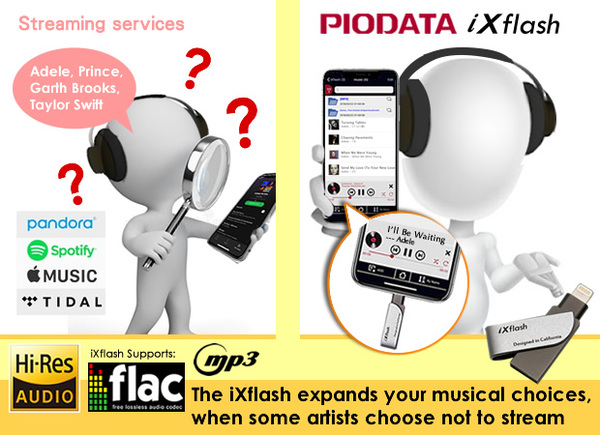 Music is a big part of many people's lives. Music is the soundtrack to our lives and certain songs and albums bring you back to special events in our lives or helps you through difficult times like heartbreak and the passing of a loved one. So it makes sense that streaming services like Spotify, Pandora, Apple Music, Tidal, etc. are so popular. The idea that you can listen to an endless stream of music for free or for a set monthly fee, what a concept. But there's one problem, what if the artist or album you want to listen to isn't available on that streaming service or any streaming service for that matter?
Many popular musicians, like Adele, Garth Brooks, Prince, Taylor Swift, and many others either at one time or are currently not available on all or some of the main streaming services. That's not to mention some of the more niche genre specific artists that may not have as big a following, but have millions of fans nonetheless who also actively choose not to have their music played on streaming services for one reason or another. The only option is to purchase their music, either as a digital download or a physical copy on CD, vinyl, or even tape. What do you do now, you still want to be mobile with your music, so where can you store these songs and not fill up the memory on your phone or tablet?
The answer is the iXflash! The iXflash can be your traveling media library where you can store tons of music that you can plug into your iPhone or iPad and listen to anytime, with or without wi-fi access. You'll never have to worry about what format your music is save in because the iXflash App plays virtually all music formats from MP3 to WAV to FLAC and much more. Plus, you can listen to complete albums or switch it up and create your own playlists. You can even store podcasts and other audio files that take up so much space on your iPhone or iPad. With the iXflash, you never have to worry whether you have enough space or memory, because you can plug it in and instantly add up to 512GB* of added storage. Don't be held back by the limitations of the memory on your device, expand your horizons and experience the difference the iXflash can offer you.
For more details on this item or any product Vinpower offers, please visit our website at www.vinpowerdigital.com, or contact a representative near you.
Interested in this article? Click on the following link to read this and all previous email blasts and interesting related content from Vinpower's official Blog: https://blog.vinpowerdigital.com/