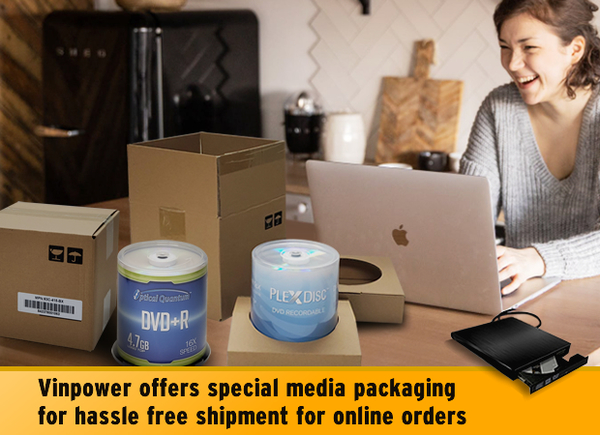 Even though brick and mortar retail locations are again fully open to the public, many consumers are still more comfortable ordering products online. The problem with online orders for items with more fragile packaging, like individual spindles of optical discs, is making the decision between cheaper packaging that could cause the product to break and therefore incur returns, or the added cost of safer packaging, possibly increasing your costs too high for the market. It's a very delicate balance between ensuring the safety of your product during shipping and managing your costs to make your product price competitive.
Vinpower has the solution! We are offering new individual and multipack hassle free media packaging offerings of our top quality A grade OPTODISC media. Not only are you able to offer your customers a top tier media offering, but you can also rest assured that you won't get returns due to faulty packaging that breaks during transit. All this at a price comparable to similar products not using the safer packaging. Contact Vinpower to learn more about our different media offerings, including special packaging.
For more details on this item or any product Vinpower offers, please visit our website at www.vinpowerdigital.com, or contact a representative near you.
Interested in this article? Click on the following link to read this and all previous email blasts and interesting related content from Vinpower's official Blog: https://blog.vinpowerdigital.com/