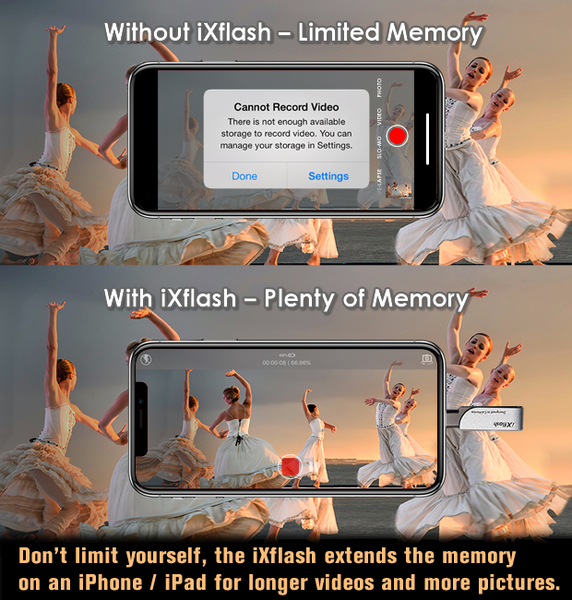 Most of us have experienced the dreaded storage full warning, letting us know we don't have enough memory on our iPhone or iPad to take any more photos or videos. No matter what size device you get, there's no way to add any additional storage. So you either give up on taking the photo or video, or you frantically try to delete and unload stored pictures, videos, and Apps to free up space. With the iXflash, you don't have to worry about any of that.
With the iXflash, you can take pictures & videos that are stored directly on the iXflash drive without using any of the iPhone or iPad's internal memory. So you can film as much as you want without fear of running out of storage. Plus, you can perform simple editing as the video can be paused and restarted to create 1 continuous video instead of multiple shorter videos. No longer are you restricted in what you can film due to lack of storage capacity on your iPhone or iPad, the iXflash gives you more flexibility and capability to capture those memories you would have otherwise missed.
The iXflash comes in multiple capacity sizes, from 32GB, 64GB, 128GB, 256GB, and even 512GB, to match the needs of all users, from the occasional picture taker, to the professional influencer on the go. You can find the iXflash in a variety of online retailers around the world, including the below Amazon links in the USA:
iXflash 32GB: www.amazon.com/iXflash32GB
iXflash 64GB: www.amazon.com/iXflash64GB
iXflash 128GB: www.amazon.com/iXflash128GB
iXflash 256GB: www.amazon.com/iXflash256GB
iXflash 512GB: www.amazon.com/iXflash512GB
For more details about this product or any of Vinpower´s offerings, please visit our website, www.vinpowerdigital.com, or speak with a Vinpower representative near you.