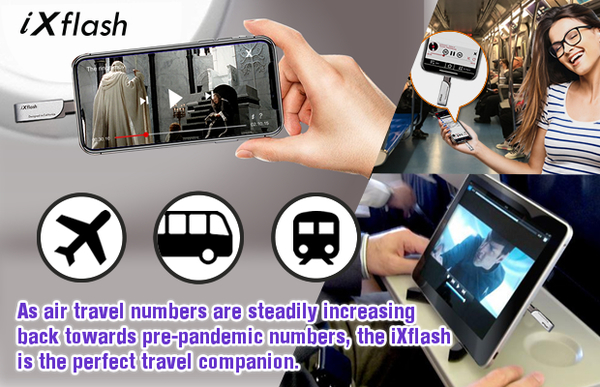 Summer season is typically travel season as vacationers near and far pack up their gear and take to the skies. After the pandemic all but grounded most people for an entire year, as infection rates are rapidly decreasing, people are flocking to airports to fly the friendly skies again. The TSA Checkpoint for US traveler flight throughput shows American airports are seeing numbers quickly approaching the 2019 pre-pandemic volume*.
As we travel, we rely on our mobile phones as our multipurpose everything devices, camera, computer, music and movie player, and so much more. The problem is, the more we rely on our phones, the more precious the devices memory capacity is and how quickly we can fill up the storage on our mobile phones, regardless of the size. Sure you can store items on the cloud, but what if you don't have internet access? The iXflash is the perfect solution!
Not only can the iXflash backup all your photos and videos, freeing up critical storage, but it can also be your portable media center, where you store your music and movie collection. That way, you don't waste capacity on content you won't use constantly and yet have it available whenever you want to listen to your favorite artists or watch your favorite movies. Have a big presentation that you want to use the downtime on the flight to work on? Use the ultra-compact iXflash as an external hard drive to store the files and even make changes through your iPhone/iPad or on your computer.
The iXflash has so many uses, you'll wonder how you functioned without it. So if you're planning to hit the road, make sure you pack all the essentials, including the iXflash!
To learn more about this item, or any of Vinpower's line of products, visit www.vinpowerdigital.com, or speak with a Vinpower representative in your area.
Interested in this article? Click on the following link to read this and all previous email blasts and interesting related content from Vinpower's official Blog: https://blog.vinpowerdigital.com/
TSA checkpoint travel numbers (current year versus prior year(s)/same weekday) This page will be updated by 9 a.m. daily. (Back to Coronavirus (COVID-19) information)
| | | | |
| --- | --- | --- | --- |
| Date | 2021 Traveler Throughput | 2020 Traveler Throughput | 2019 Traveler Throughput |
| 7/7/2021 | 1,880,160 | 632,498 | 2,515,902 |
| 7/6/2021 | 1,889,911 | 641,761 | 2,506,859 |
| 7/5/2021 | 2,160,147 | 755,555 | 2,748,718 |
| 7/4/2021 | 1,681,896 | 732,123 | 2,795,369 |
| 7/3/2021 | 1,915,017 | 466,669 | 2,345,846 |
| 7/2/2021 | 2,196,411 | 718,988 | 2,184,253 |
| 7/1/2021 | 2,147,090 | 764,761 | 2,088,760 |
| 6/30/2021 | 1,920,663 | 626,516 | 2,547,889 |
| 6/29/2021 | 1,808,306 | 500,054 | 2,347,767 |