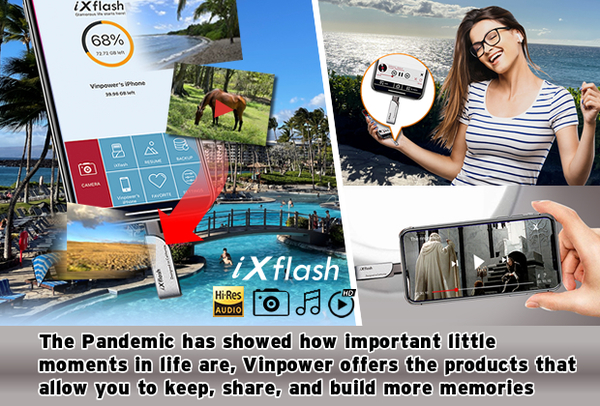 Prior to 2020, if you were like me, you didn't realize how much you took for granted. Just being able to gather with friends anywhere anytime was something I never imagined would become restricted or complicated. So when things began to open up and we could venture out and participate in mundane activities, like going to a sporting event, taking the family to an amusement park, taking a vacation, or just eating at a local restaurant, I recognized how important those things were to our everyday health and mental wellbeing.
At the same time, I wanted to capture those memories as my own personal time capsule as well as share them with friends and family. That's when I really realized how useful it was to have all sorts of digital storage media and devices available to me for just that purpose. Having a lot of time on my hands during the pandemic, I was able to organize the thousands of photos and videos I have sitting on my hard drive or on my cell phone and create memory books that I burned onto discs and USB drives that I shared with loved ones. I also was able to quickly and easily rip all my thousands of CD's onto a hard drive so that I have my full library of music available to me anytime anywhere. Which, I was also able to make fun mix tapes to again share with friends and family.
The piece de la resistance was the iXflash. I finally took a long overdue family vacation and used the iXflash daily! I used it to back up the photos I took daily from my iPhone, so I didn't have to worry if I lost my phone that I'd lose all my pictures, or if I ran out of memory that I'd have to delete pictures I didn't save. I shot long form videos with it so I wouldn't use my phones storage. I stored movies and music to watch and listen to from my iPhone while traveling on the plane or in cars from destination to destination. It became as valuable on the trip as my phone was. The iXflash gave me the freedom and piece of mind to enjoy the experience even more than I would have otherwise.
This past year has been a whirlwind of emotions and changes, but luckily I had access to plenty of media and storage devices to make the most of the free time. So much so, that I found a new respect for a medium that some say its day has passed.
To learn more about this item, or any of Vinpower's line of products, visit www.vinpowerdigital.com, or speak with a Vinpower representative in your area.
Interested in this article? Click on the following link to read this and all previous email blasts and interesting related content from Vinpower's official Blog: https://blog.vinpowerdigital.com/