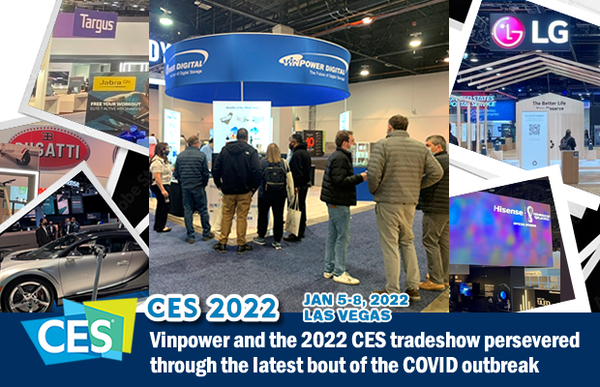 The 2022 CES tradeshow was supposed to be a return to normalcy in a way, but the omicron variant had other plans. With numerous major companies pulling out and even some who didn't exhibiting little more than a virtual presence with no staff and a do it yourself maze of QR codes due to COVID related concerns, CES persevered and opened its doors for the 1st time in 2 years on Wednesday, January 5, 2022. Vinpower was there to face the challenge and great those attendees that also took a chance and participating is the pinnacle for the electronics industry.
Even though there were fewer exhibitors and a limited crowd, the attendance was still full of passionate participants that all followed the guidelines and were anxious and excited to see what was on display. Vinpower, exhibiting in a new location with a new exhibition booth, was excited to show our wares to what was certain to be many new faces that had never visited or heard of us before. So even with a scaled back show, Vinpower was pleased with the enthusiastic reception and the opportunity to share our product range with a wider audience.
What the future holds for CES is anybody's guess, but I would bet that 2023 will find a reinvigorated group of attendees and exhibitors and Vinpower will once again be amongst them.
To learn more about this item, or any of Vinpower's line of products, visit www.vinpowerdigital.com, or speak with a Vinpower representative in your area.
Interested in this article? Click on the following link to read this and all previous email blasts and interesting related content from Vinpower's official Blog: https://blog.vinpowerdigital.com/.