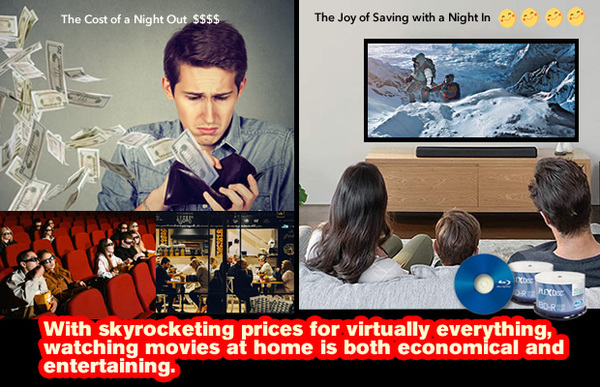 It seems like the price of everything has increased dramatically recently. I was shocked to learn that the value of my car, which is nothing special, is worth more now than what I paid for it in 2017. The problem is, the cost of gas, eating out, and entertainment has increased dramatically. The overall expense to go out is getting more and more prohibitive making those special occasions, even more reclusive. So how can you still have an entertaining evening with family and friends without breaking the bank? Why not stay home and make it a movie night? Most people already have a suitable large screen TV, why take advantage and catch up on classic movies or maybe there's something new you've been meaning to watch but never had time. Personally, I am enjoying watching movies from my youth with my kids to get their perspective and see if they are still as enjoyable as I remembered them being.
The problem is, not all movies are readily available on the streaming service(s) I currently subscribe to. In any case, I am fortunate that I collected tons of DVD and Blu-ray movies over time, so I can always pop one or two in, if we want to make it a double feature, eat a home cooked meal, make popcorn, and pause the movie for bathroom breaks without breaking the bank. That's why it's so important to keep your DVD's or pick up a new one if it's a movie you loved or always wanted to watch.
If the high price of going out is leaving you sad, turn that frown upside down and have a good ole fashion staycation in your living room. Let the movies transport you to new places or revisit the places you've loved in the past. Vinpower offers plenty of products from optical discs to drives, USB, SSD, and iPhone flash that will allow you to live your best life and not break the bank.
To learn more about this item, or any of Vinpower's line of products, visit www.vinpowerdigital.comor speak with a Vinpower representative in your area.
Interested in this article? Click on the following link to read this and all previous email blasts and interesting related content from Vinpower's official Blog: https://blog.vinpowerdigital.com/