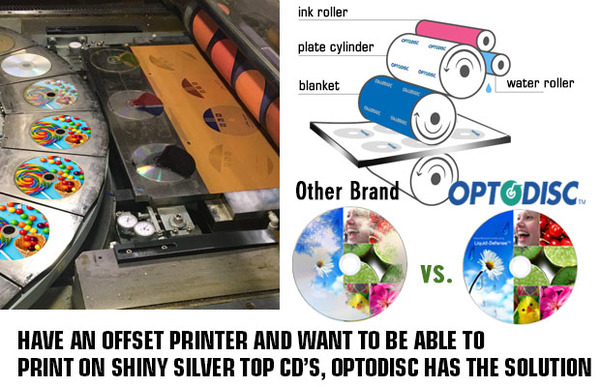 Offset printers have been a strong alternative to standard silkscreen printers. They allow many more options in colors, while being easier to use and cleaner than silkscreen, but the problem has always been the difficulty in printing on shiny silver CD's. Typically, shiny silver CD's become damaged from the offset process due to the pressure and heat created when applying the color film to the disc. Unlike DVD's, CD's only have 1 layer of plastic with dye on top. So when the offset printer rolls over the dye layer of the silver lacquer CD, it often causes the dye to peel off killing the CD and creating a cleaning nightmare for the offset printer operator.
The solution has typically been to use a special coating over the shiny silver lacquer that works as a protective layer to prevent peeling. The problem is that makes the top of the CD look like a matte finish and no longer shiny silver, so the finished printed product is often not as attractive. That was the solution until now!
Vinpower is now offering the all new OPTODISC shiny silver lacquer CD-R that comes as both the standard CD-R and Digital Audio version that work perfectly with offset printers. We've managed to create these Shiny Silver CD-R's that can hold up to the intense pressure of the offset printer and still offer a beautify shiny silver top with perfect recording capabilities. They will also work with silkscreen and thermal printers as well to an all around solution. But the main advantage comes for those with offset printers and want to print text, images, or both onto shiny silver top CD's.
If you're looking for a shiny silver lacquer CD-R solution that can work with an offset printer, then contact us today to reserve your quantities. These CD-R's are a game changer and we're confident they meet all your needs as well as those of your customers.
For more details on this item or any product Vinpower offers, please visit our website at www.vinpowerdigital.com, or contact a representative near you.
Interested in this article? Click on the following link to read this and all previous email blasts and interesting related content from Vinpower's official Blog: https://blog.vinpowerdigital.com/