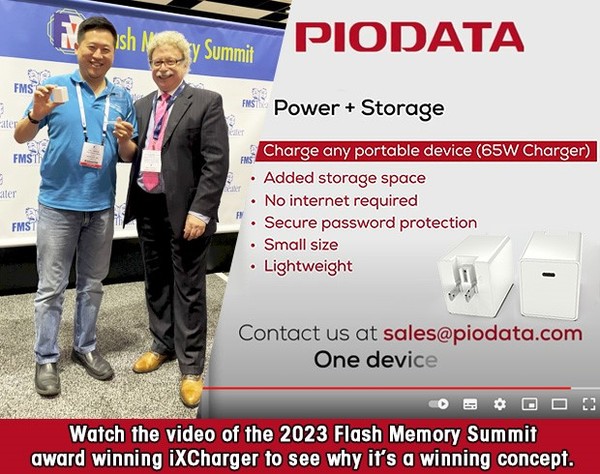 Watch the video of the 2023 Flash Memory Summit award winning iXCharger to see why it's a winning concept.
The iXCharger recently won the "Most Innovative Flash Memory Consumer" at the 2023 Flash Memory Summit, but what is it? It's great to get recognition for your accomplishments, but it doesn't mean much if you can't relate to the product. That's why we are sharing a quick quirky animated video to highlight what the iXCharger is and why it was worthy of this and other awards as a truly innovative and soon to be market leading consumer product.
Check out the below video and see for yourself the many benefits the iXCharger can provide for anyone with a laptop, smartphone, and/or tablet.
https://www.youtube.com/watch?v=U8vhc2RNYw8
The iXCharger is the first universal charging plus storage cube with 65W up to 1TB storage power charger, offering the ability to charge a device's battery and provide extended storage memory for virtually all smartphones and tablets (including Apple iOS iPhones, iPads, and Android devices), as well as laptop computers. Plus, it provides automatic secure content backup through our proprietary MFi iOS APP. The iXCharger is incredibly compact, using a specialized third-generation semiconductor GaN technology and ACF controller, to enable fast and more efficient charging without overheating or impacting the internal memory. The iXCharger utilizes an AES 256 encryption storage component that creates a 2-in-1 solution for both charging and secure storage.
For more details about this item or any products that Vinpower offers, visit https://blog.vinpowerdigital.com/ or speak with a Vinpower representative near you.
Interested in this article? Click on the following link to read this and all previous email blasts and interesting related content from Vinpower's official Blog:
https://blog.vinpowerdigital.com/