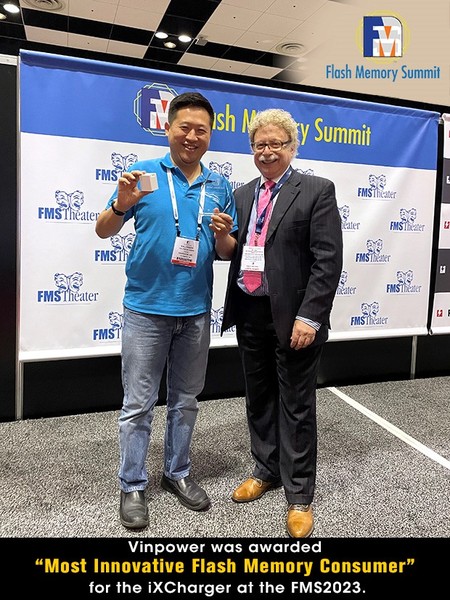 Vinpower was awarded "Most Innovative Flash Memory Consumer" for the iXCharger at the FMS2023.

When you participate in a new tradeshow, you never know how your products are going to be received, especially for a specialized industry event like the Flash Media Summit. We were pleasantly surprised at how receptive these titans of the industry were, especially with our upcoming iXCharger, 65W up to 1TB power + storage charger and hard drive in one. Even though this was the first time we exhibited at the FMS, the prestigious judging committee saw fit to award Vinpower with the "Most Innovative Flash Memory Consumer" for the iXCharger, solidifying that we are indeed moving in the right direction with our latest breakthrough in the storage field.
There were a number of visitors to our booth from both the industry and academia that were quite taken at the brilliance in which we were able to marry the two applications. In fact, some of them had made a stab at the concept in the past, but were not able to create a viable product as we have done.
In the end, it is always an honor to receive an award and outstanding complimentary feedback on a product your team has worked long and hard to create, but it's an especially proud moment when they come from those that are tops in the flash/storage field. These positive reactions continue to fuel us that we're on the right track. We even have ongoing discussions with high profile companies and executives interested in taking on the line for their product offerings. Stay tuned for more news on this.
Additionally, our iXflash and iXflash Cube series were also very well received and show that they is indeed a scarcity of competent and reliable storage products specifically for mobile devices. We expect to see much more progress in both our product's functionality and compatibility in the near future.
For more details about this item or any products that Vinpower offers, visit www.vinpowerdigital.com, or speak with a Vinpower representative near you.
Interested in this article? Click on the following link to read this and all previous email blasts and interesting related content from Vinpower's official Blog:
https://blog.vinpowerdigital.com/