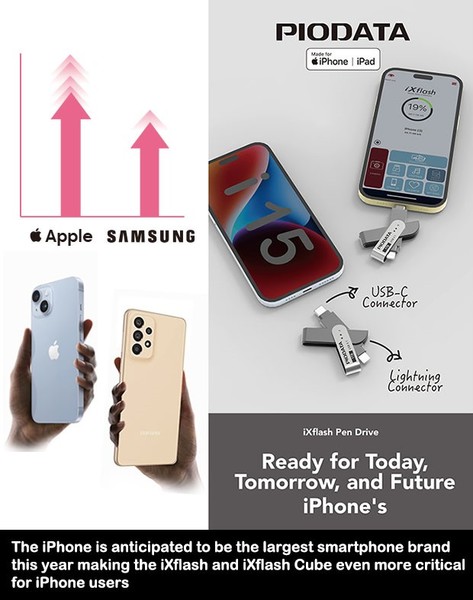 A number of recent articles have all proclaimed that Apple's iPhone is poised to become the largest smartphone brand with the release of the upcoming iPhone 15 model. That may not be a surprise to many, but it highlights Apple's continued dominance in the smartphone market, yet Apple still offers no easy way to offload content stored on the iPhone other than using their iCloud service. There are still quite a number of iPhone users that either don't want to pay for nor fully trust storing their content on iCloud. That's why the iXflash and iXflash Cube series are so important for iPhone users to be aware of. Both devices make it extremely simple to backup and store all the photo, videos, and even contacts stored on an iPhone or iPad.
Plus, with the anticipation that either the iPhone 15 or the subsequent model will transition away from the Lightning connection to the EU Council mandated universal USB-C connection, the iXflash and iXflash Cube series are already ready to support the moment that version launches. The iXflash with both a Lightning and UBS C connection are already MFi approved and ready to work with the upcoming iPhones whichever type of connection they have.
Don't leave your content to the winds of fate, offload all the photos and videos stored on your iPhone or iPad with the iXflash or iXflash Cube for peace of mind that you'll always have your treasured moments.
Check out these new videos for our full iX series of storage devices that work with iPhone, iPad, and most Android smartphones and tablets as well.
iXflash:https://youtu.be/gXvQKA4atMQ
iXflash cube: https://youtu.be/Qa8-ZB_HcyE
iXCharger: https://youtu.be/U8vhc2RNYw8
For more details about this item or any products that Vinpower offers, visit https://blog.vinpowerdigital.com/ or speak with a Vinpower representative near you.
Interested in this article? Click on the following link to read this and all previous email blasts and interesting related content from Vinpower's official Blog: https://blog.vinpowerdigital.com/